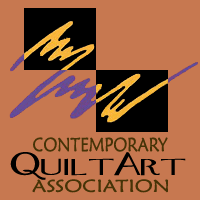 "Imagination Takes Wing"
An Art Quilt Show sponsored by the Contemporary QuiltArt Association and hosted by the Museum of Flight
The idea for Imagination Takes Wing came about in 2003, the centennial year of powered flight. A Museum of Flight member who is also a member of the Contemporary QuiltArt Association was inspired by the fact that much of the Wright Brothers first aircraft, The Wright Flyer, was constructed of fabric. The member thought that a show consisting of fabric art surrounded by aircraft would be interesting to Museum members and visitors. The Museum of Flight was interested in hosting such a show and within this exhibit are several interpretations of the theme: Imagination Takes Wing.