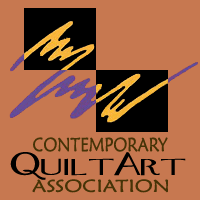 "Art Quilts on the Ridge"
A Summer Show of the Contemporary QuiltArt Association
Rather than stating a "theme" up front for this juried show, members were encouraged to enter their regular current style of work in 2004 at the Phinney Ridge Community Center. Sometimes working to a requested theme for a show causes an artist to lose sight of their personal artistic vision. Here we see work by members of CQA that showcases the wide variety of styles and techniques in textile art that individuals have developed.