Monthly meetings
Visitors (including non-quilters) are always welcome at our meetings. Typically, there is no admission fee, and we get terrific and inspiring guest speaker artists who work in diverse media. Our regular meetings run from 10:30 a.m. to 1:30 p.m. on the second Saturday of each month. Usually, we gather in a classroom on the Seattle Pacific University campus. (Scroll down this page for directions, maps, and room information.) Meetings are casual, so please bring a sack lunch if you wish.Speaker presentations begin shortly after the general business meeting at approximately 11:00 a.m.
Membership
See the Our Members page for information about how you can join CQA.
Date (Saturdays)
Speaker/Event
Topic
February 13

Amanda Devine




Visual Narratives

Amanda Devine will talk about the invisible thread of curiosity and fascination with small things. This theme runs through her diverse work which has included unconventional photographic processes, Japanese paper making, mixed media assemblage and digital technology.

During her presentation she'll share the story of Lavina's Gift, a narrative project that began nearly 40 years ago and continues to evolve. Her work has been described as "calm and questioning, intriguing and insightful."

March 12
Jury training
Let's all learn more about how to be a show juror.
April 16

Join the quilt art community for a day of celebration and learning. We've lined up three inspiring speakers, a luncheon, and an introduction to the CQA exhibit "Cutting Edge, Art Quilts in Washington State" with an opening party and artist tour. For more information and to sign up, go to quiltartsym.com.

May 14
Fashion show
Jane Koura's "Creative Clothing" students will model their accomplishments from the class.

Directions to Bertona Hall on the Seattle Pacific University campus:
GPS entry: 107 West Bertona, Seattle 98119
From I-5, take the NE 50th Street exit and drive west. Turn left (south) on Fremont Avenue N—about two miles. Get into the right lane as you cross the Fremont bridge and take the first turn-off to the right and then immediately right again onto Nickerson Street. Follow Nickerson for about half a mile, and turn left (south) at the stoplight for 3rd Avenue West. You are now on the SPU campus.Turn left onto 3rd.
Enter the parking lot on your left by turning into the driveway beside Stell's, the small restaurant. Our building is on the east side of the parking lot, a one-story red brick building. Parking in the lot is free for us on weekends; ignore the restricted parking and "No Parking" signs.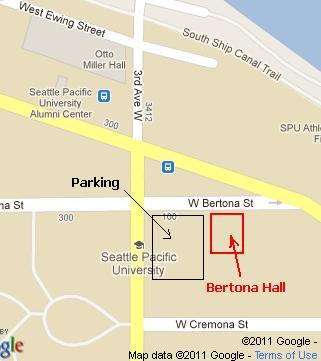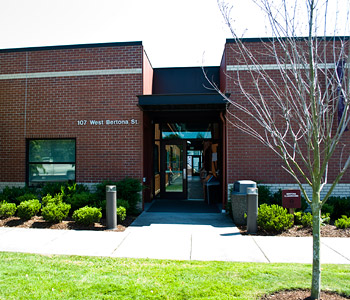 To see a map of the entire SPU campus, go to www.spu.edu/info/maps.asp.