Membership is open to residents of Washington state. Click here to view a Membership Application. Print it, fill it in, and mail it to the address printed on the form, or bring it to a CQA meeting. See a quick summary of membership benefits on the Dues page.
Current members can renew by paying dues online through PayPal. Go to our Dues page to select your level of membership, and follow the link to PayPal. A dues payment made now covers your membership from today through March 31, 2016.
Monthly meetings
Visitors (including non-quilters) are always welcome at our meetings. There is no admission fee, and we get terrific and inspiriing guest speaker artists who work in diverse media. We meet from 10:30 a.m. to 1:30 p.m. on the second Saturday of each month in a classroom on the Seattle Pacific University campus, between the north side of Queen Anne Hill and the ship canal. Meetings are casual, so please bring a sack lunch if you wish.
Speaker presentations begin shortly after the general business meeting at approximately 11:00 a.m.
Date (Saturdays)
Speaker/Event
Topic

May 9

NOTE change of venue!

Jean Cacicedo


Fiber artist

Jean was a prime innovator in the Wearable Art Movement of the '70s. Known for her "signature coats," her pieced-and-sewn, slashed, felted, and dyed constructions have been published and exhibited aroung the globe, including a 30-year retrospective at the Museum of Craft and Folk Art in San Francisco. Her work is in the permanent collections of the de Young Museum in San Francisco, the Oakland Museum of California, and the Museum of Art and Design, NYC. She is currently a Board Member of the Textile Arts Council of the de Young Museum, San Francisco.

Wearable art and works on paper

(Joint meeting of CQA and Surface Design Association, in Otto Miller Hall, across the street from our regular meeting spot in Bertona Hall.)

For more images of Jean's work and information about upcoming classes and workshops, go to her web site: jeancacicedo.com

June 13
Rachel Brumer


Art quilter

Art quilts

July 11
Cathy McClure


Metalsmith

Moving metal toys and robots

Direction to Seattle Pacific University and Otto Miller Hall:

From I-5,take the NE 50th Street exit and drive west. Turn left (south) on Fremont Avenue N—-about two miles. Get into the right lane as you cross the Fremont bridge and take the first turn-off to the right and then immediately right again onto Nickerson Street.
Follow Nickerson for a little over half a mile, and turn right (north) at the stoplight at the intersection with 3rd Avenue West. You are now on the SPU campus. From 3rd West, enter the parking lot on your left in front of Otto Miller Hall, or drive behind the building where there is additional parking. Parking in the lot is free for us on weekends; ignore any signs restricting parking to carpools, students, etc. in the parking lots.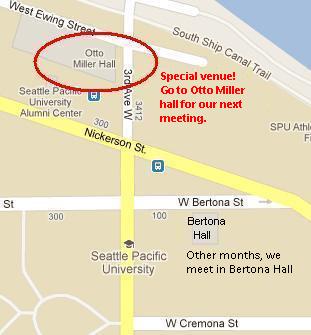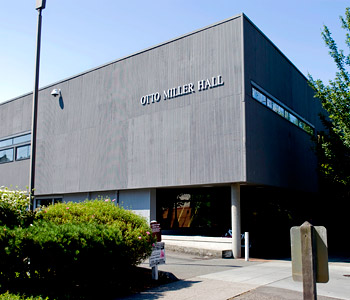 To see a map of the entire SPU campus, go to www.spu.edu/info/maps.asp.