Membership is open to residents of Washington state, and guests are always welcome at our meetings. We meet on the second Saturday of each month in a classroom on the Seattle Pacific University campus, between the north side of Queen Anne Hill and the ship canal (see directions and map, below). from 10:30 a.m. to 1:30 p.m. The meetings are casual, so please bring a sack lunch if you wish. Speaker presentations begin after the general business meeting, usually between 11:00 and 11:30 a.m.
Click here to view a Membership Application. Print it, fill it in, and mail it to the address printed on the form, or bring it to a CQA meeting.
Members can pay dues online through PayPal. Go to our Dues page to select your level of membership, and follow the link to PayPal. A dues payment made now covers your membership from today through March 31, 2015. As of October 1, you can pay at the half-year price.
Upcoming CQA Meeting, January 2015
Date (Saturdays)
Speaker/Event
Topic
April 11
Kathy Hattori


Fabric dyer

Natural Dyes

Kathy Hattori's is a font of information and expertise on the subject of natural dyes. As President of Botanical Colors, LLC, she creates color palettes, matches color standards, and trains personnel in the processes and techniques used with natural dyes. Her company partners with like-minded businesses to create a sustainable textile supply chain that is based in North America.

May 9
Jean Cacicedo


Fiber artist

Wearable art and works on paper

(Joint meeting of CQA and Surface Design Association, probably in Otto Miller Hall, across the street from our regular meeting spot in Bertona Hall.)

June 13
Rachel Brumer


Art quilter

Art quilts

July 11
Cathy McClure


Metalsmith

Moving metal toys and robots

Direction to Seattle Pacific University and Bertona Hall:

From I-5, take the NE 50th Street exit and drive west. Turn left (south) on Fremont Avenue N--about two miles. Get into the right lane as you cross the Fremont bridge and take the first turn-off to the right and then immediately right again onto Nickerson Street. Follow Nickerson for about half a mile, and turn left (south) at the stoplight for 3rd Avenue West. You are now on the SPU campus.
From 3rd West, enter the parking lot on your left by turning into the driveway beside Stell's, the small restaurant. Our building is on the east side of the parking lot, a one-story red brick building. Parking in the lot is free for us on weekends; ignore the "No Parking" signs.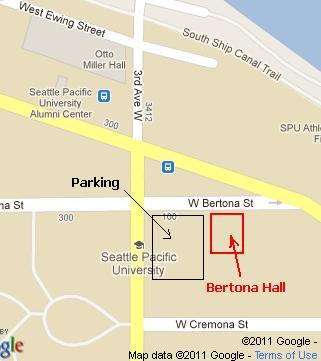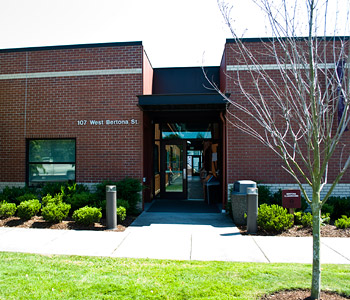 To see a map of the entire SPU campus, go to www.spu.edu/info/maps.asp.