Membership is open to residents of Washington state, and guests are always welcome at our meetings. We meet on the second Saturday of each month in a classroom on the Seattle Pacific University campus, between the north side of Queen Anne Hill and the ship canal (see directions and map, below). from 10:30 a.m. to 1:30 p.m. The meetings are casual, so please bring a sack lunch if you wish. Speaker presentations begin after the general business meeting, usually between 11:00 and 11:30 a.m.
Click here to view a Membership Application. Print it, fill it in, and mail it to the address printed on the form, or bring it to a CQA meeting.
Members can pay dues online through PayPal. Go to our Dues page to select your level of membership, and follow the link to PayPal. A dues payment made now covers your membership from today through March 31, 2015. As of October 1, you can pay at the half-year price.
Upcoming CQA Meeting, January 2015
Date (Saturdays)
Speaker/Event
Topic
March 14

Alfredo Arreguin
Painter


"Patterns on Canvas"

"When I was a child growing up in Morelia, Michoacán, Mexico, my maternal grandfather, Carlos Mendoza, managed to convince the faculty of the School of Fine Arts to allow me to attend classes at that institution. There, I learned the basics of drawing and then practiced painting. On weekends and vacations, I spent a great deal of time playing in the nearby forests and rivers. At the same time, on many mornings I accompanied my grandma to the market place, where I loved to see the designs of different crafts, such as jewelry, toys, ceramics, and textiles. My real career as an artist started many years later, when I moved to Seattle and became a student at the University of Washington. In graduate school, my love for Nature and my memories of the many designs and patterns that had inspired me as a child merged into the composition of my work. Since 1969, I have been using this technique with great success. My paintings have been exhibited in numerous galleries and museums, nationally and internationally, and are now in many important private and public collections. By showing the artists of the Contemporary QuiltArt Association some images of my work, I intend to illustrate my progression as an artist over the years, emphasizing the influence that textiles and other crafts have had on my expression."
—Alfredo Arreguin

Direction to Seattle Pacific University and Bertona Hall:

From I-5, take the NE 50th Street exit and drive west. Turn left (south) on Fremont Avenue N--about two miles. Get into the right lane as you cross the Fremont bridge and take the first turn-off to the right and then immediately right again onto Nickerson Street. Follow Nickerson for about half a mile, and turn left (south) at the stoplight for 3rd Avenue West. You are now on the SPU campus.
From 3rd West, enter the parking lot on your left by turning into the driveway beside Stell's, the small restaurant. Our building is on the east side of the parking lot, a one-story red brick building. Parking in the lot is free for us on weekends; ignore the "No Parking" signs.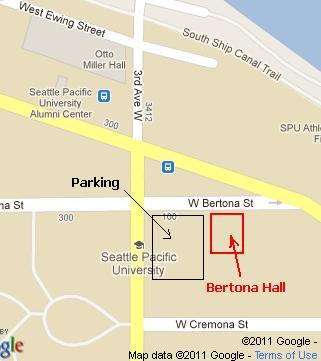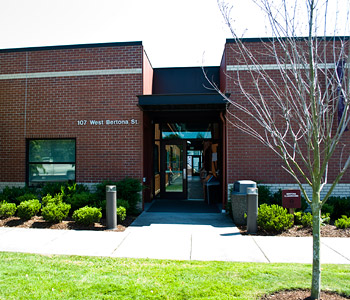 To see a map of the entire SPU campus, go to www.spu.edu/info/maps.asp.